It is now DAY 50 of the outbreak in BOP facilities. For the second day in a row, the number of infected inmates is exploding, driven almost exclusively by FCI-Lompoc. Apparently, a second inmate has died at the USP-Lompoc, but the BOP is not reporting it. In fact, the BOP no longer is reporting the first death, which occurred a few weeks ago.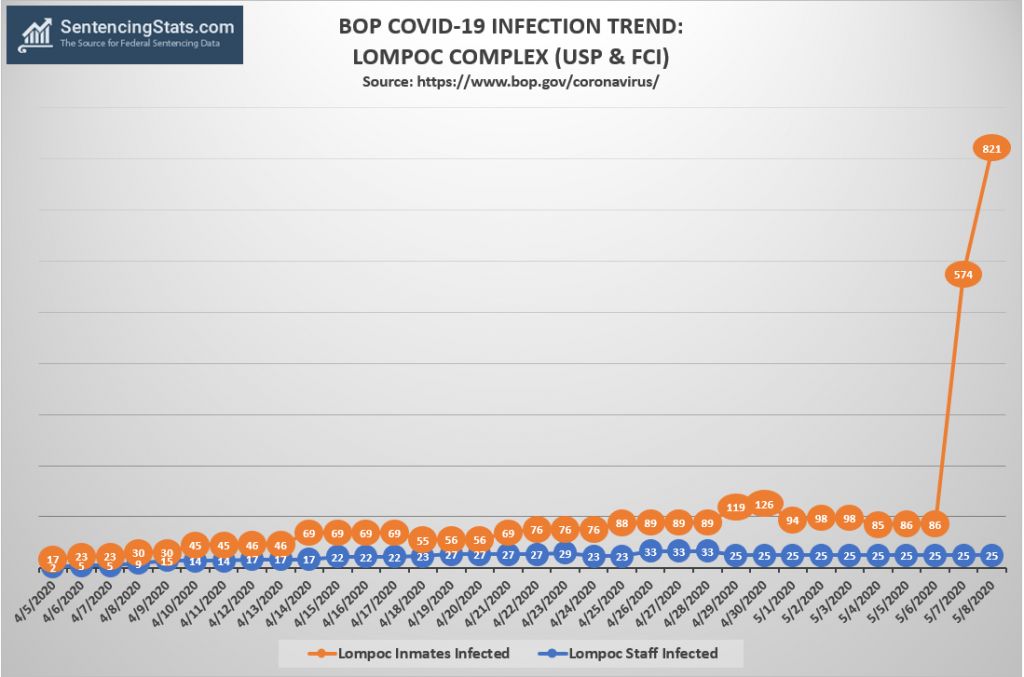 Buried within the BOP's website are the number of infected inmates held in private prisons. They now number 120. No data are provided on infected staff, recovered staff or inmates, or the deaths of either.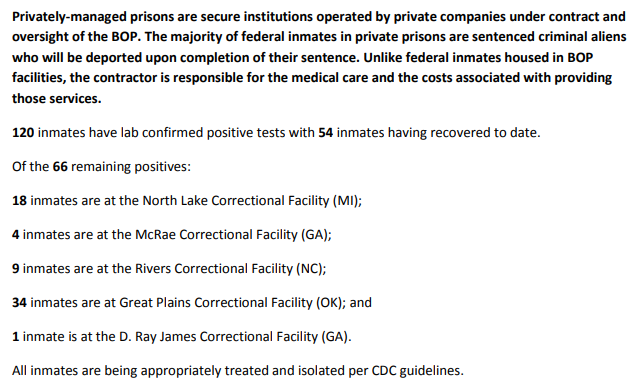 Despite the efforts of the BOP to transfer inmates to home confinement, and the flood of petitions being filed for compassionate release, as well as an apparent significant reduction in the number of defendants reporting to BOP facilities to serve their sentences, it is not enough to stem the rising number of infections. While the BOP's population has dropped by over 3,000 since mid-April, the number of infected inmates has increased by over 2,000 in the same period of time.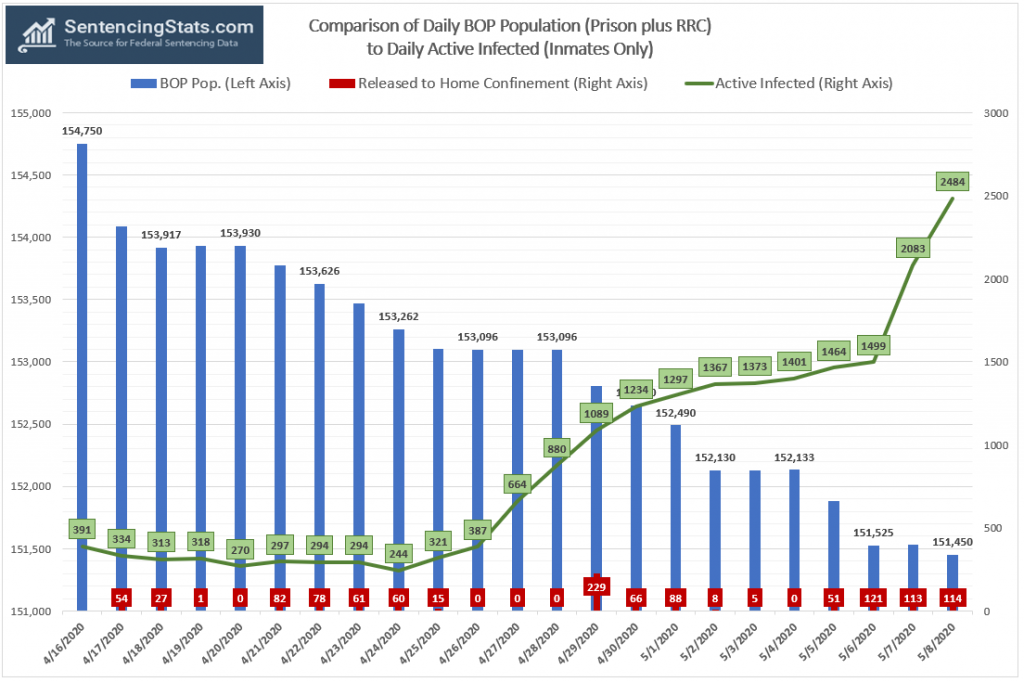 The BOP needs to start publishing data on testing, just like many states are doing. This can help alert local governments in advance to possible hot-spots, such as what is occurring at FCI-Lompoc.
The BOP currently has an active infected rate of 1,308.62 per 100,000 population. In contrast, the entire U.S. has an active infection rate of only 310.25 per 100,000.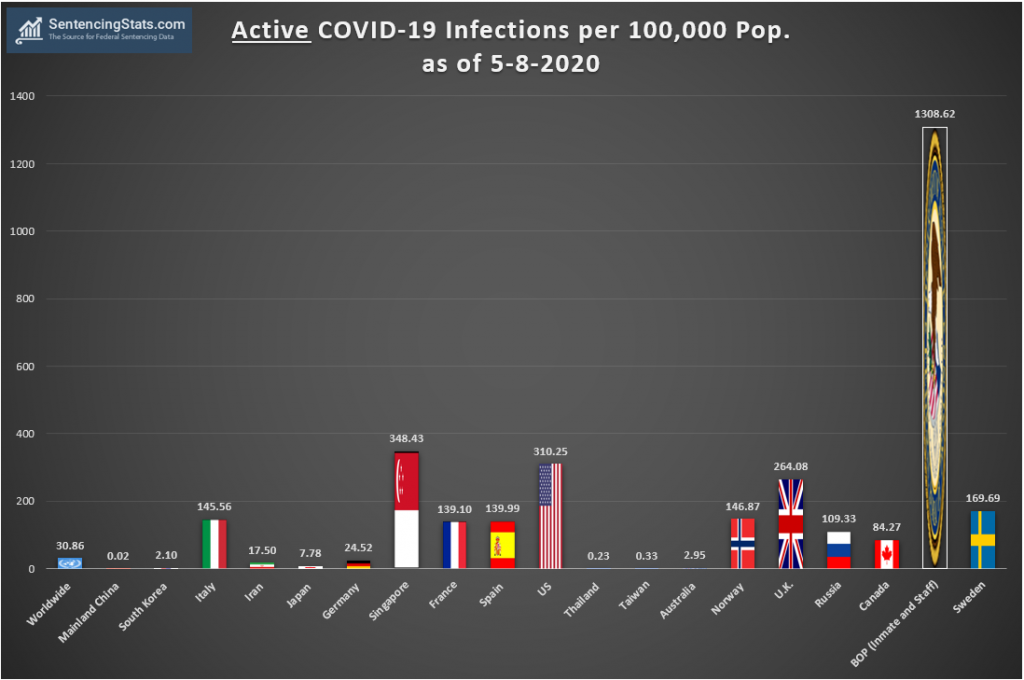 The Ohio prison system, however, which has the sixth largest prison system in the U.S., has a much higher active infection rate. Ohio's estimated prison population as of 2017 was 44,257. As of today, 1,467 inmates are actively infected, which translates into an active infection rate of 3,314.73 for every 100,000. But Ohio is able to know this because it apparently is testing more than the BOP.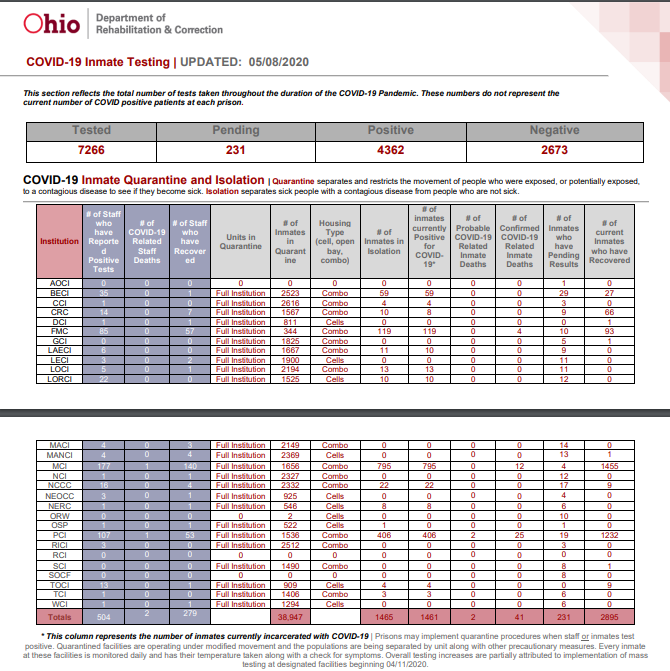 Finally, something odd is going on with how the BOP is reporting the cumulative number of staff infected. On May 6, 2020, the BOP reported 365 staff had been infected to date. However, yesterday and today, the BOP is reporting over 100 less staff have been infected. Have 100 infected staff suddenly quit working for the BOP? Had the BOP reported too many infections in the past? The BOP has not provided any clarification or explanation.