Sentencing Stats official Guide to U.S. Sentencing Commission's Amendment 821, §4A1.1 Part A (retroactive), otherwise known as Criminal History Status Points reduction:
Who Does this Affect?

The U.S.S.C. estimates Part A will affect approximately 11,495 Federal Inmates.

Amendment Effective Date: 2/1/2024

How does a defendant qualify for the Status Points removal of Amendment 821 Part A?


This guide was created to make it easy to understand and help attorneys, public defenders and loved ones of inmates understand the process:  

How to Determine Amendment 821 Part A Qualification
Was the offense committed while under parole, probation, in prison, etc? If yes, you've passed the first step.

Did defendant receive status points pursuant to 4A1.1(D)?

Is the defendant's total criminal history points 2,3,4,5,7 or 8?

If yes, defendant may qualify for a 2 criminal history point reduction.

Is the defendant's total criminal history points 10 or 13? If yes, the defendant may qualify for a 1 criminal history point reduction.

Did defendant receive a downward departure or variance at sentencing?

If yes, is the original sentence imposed lower than the new range? In that case, the defendant will not qualify for the reduction.

Upon qualification, defendant may file a motion for re-sentencing pursuant to 18 USC 3582(c). Statistics and data may be helpful for convincing court to award adjustment. Judge rules "on the papers". Note: reduction is not automatic. Judge must consider 3553(a) factors.
Please Note:
There may be additional factors such as mandatory minimums that may disqualify a defendant.

The Commission projects average sentence reduction of 11.7%. Average sentence may drop from 120 months to 106 months.

If a defendant has zero criminal history points, the defendant may qualify for Part B. We will be releasing our Part B infographic the week of October 10, 2023.

It is essential to contact an attorney or public defender to discuss legal issues specific to your case. 
NO NEED TO WAIT until 2/1/2024 to request a reduction in sentence under Amendment 821. Avoid the rush by applying early if you qualify. 
We created this infographic to help people understand Amendment 821 reductions. Feel free to send a link to this page, post on social or download a free pdf copy of this graphic to share with anyone who may benefit. 
We offer a free pre-qualification data-driven form to determine if a defendant might be eligible.: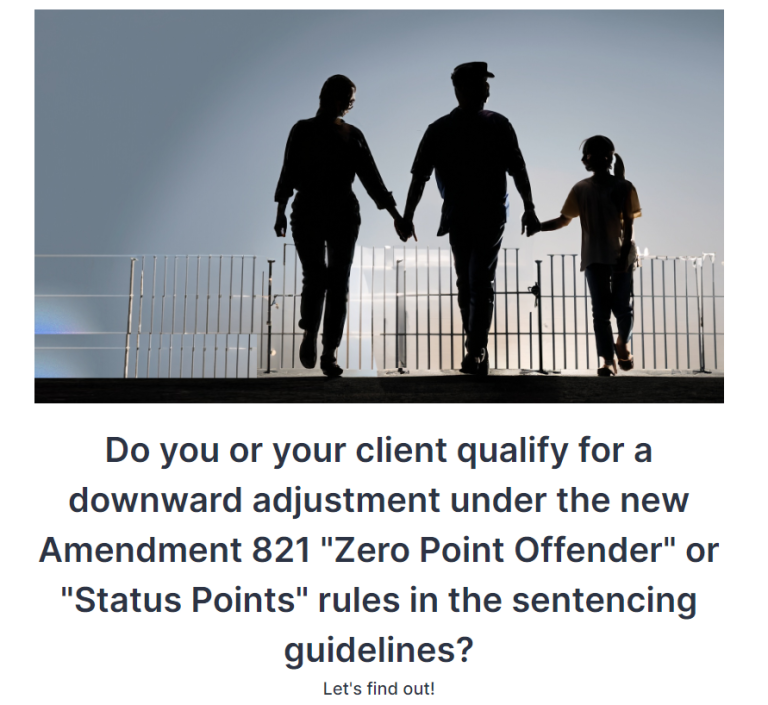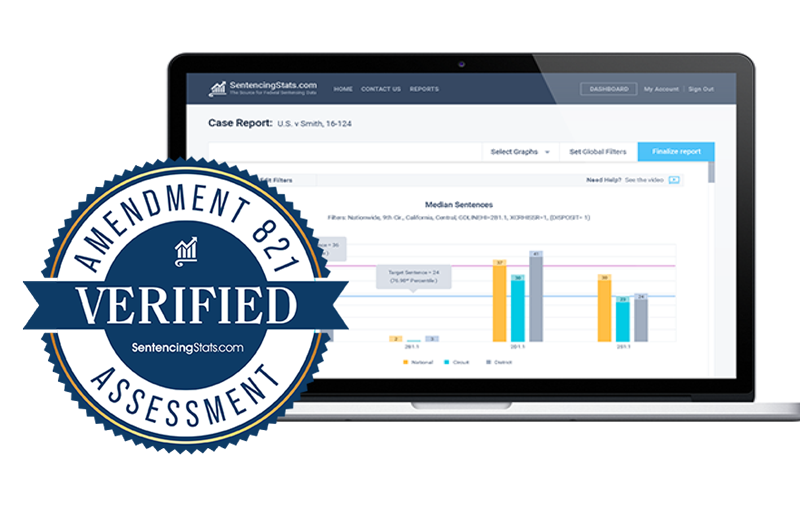 We offer an Amendment 821 verified assessment for $49. If you choose to get verified, one of our legal professionals will help you gather all of the appropriate information and legal documents. Our team will then review the details of your case and determine: A. if the defendant will likely qualify, B. what the amended sentence range will likely be and C. offer a sentence prediction based on our proprietary data and analysis tools. Currently verifications take up to a week, although we do foresee a backlog so it's advisable to seek verification sooner than later. 

NOTE: This is not a replacement for legal representation and if you are unrepresented, it's critical you seek legal representations. Verified sentencing data assessments are not legal advice.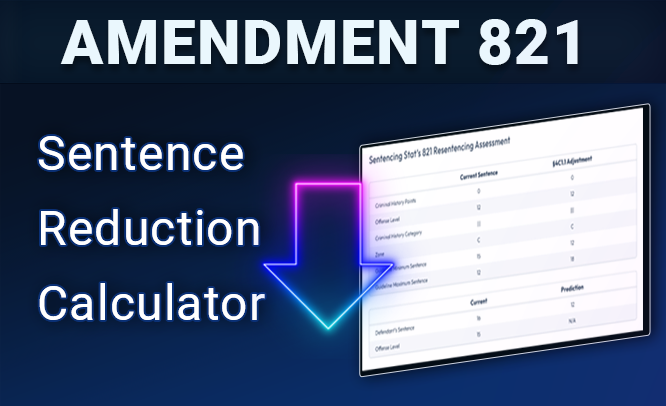 The information provided on this website does not, and is not intended to, constitute legal advice; instead, all information, content, and materials available on this site are for general informational purposes only.  Information on this website may not constitute the most up-to-date legal or other information.  This website contains links to other third-party websites.  Such links are only for the convenience of the reader, user or browser; SentencingStats.com, Inc. does not recommend or endorse the contents of the third-party sites.
Readers of this website should contact their attorney to obtain advice with respect to any particular legal matter.  No reader, user, or browser of this site should act or refrain from acting on the basis of information on this site without first seeking legal advice from counsel in the relevant jurisdiction.  Only your individual attorney can provide assurances that the information contained herein – and your interpretation of it – is applicable or appropriate to your particular situation.  
All liability with respect to actions taken or not taken based on the contents of this site are hereby expressly disclaimed.  The content on this posting is provided "as is;" no representations are made that the content is error-free.